Classification of Lipoproteins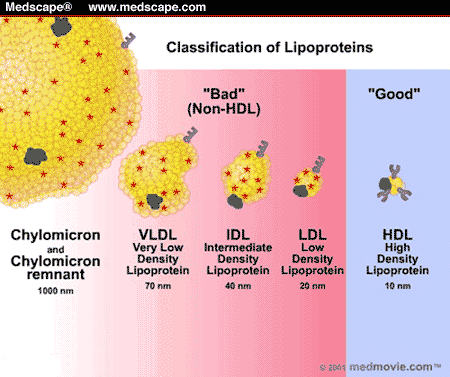 Slide. Classification of Lipoproteins
There are 3 major types of lipids that circulate in the plasma: cholesterol and cholesterol esters, phospholipids, and triglycerides. Because lipids are not soluble in water, the principal constituent of blood, they must be packaged in some way in order to be suspended in the plasma. During the initial pass through the gastrointestinal system, they are packaged as chylomicrons, secreted into the circulation, transformed into chylomicron remnants, and then finally delivered to the liver. There they are repackaged as a series of smaller, denser lipoprotein "particles" and are resecreted back into the circulation.
Although there is an entire spectrum of these lipoprotein particles, they share most of the same components, the principal difference being their size and density. The figure depicts the major divisions in this spectrum and their principal components: cholesterol (red stars), apolipoprotein B (keys), apolipoprotein A (y shapes), and membrane proteins (blue dots).
Each of these lipoprotein particles serves an important step in the body's metabolic process. As they pass through the intestines and into the circulation with their contents of fatty acids, they act as little "food trucks," delivering the nutrients in their core to the adipose and muscle tissues. However, some of these particles, when they occur in the wrong amount in the wrong place, can begin to cause problems -- problems so severe that they ultimately lead to CVD, the primary cause of death in the industrialized world.
The difficulty for the physician and for the patient is that most dyslipoproteinemias have few, if any, symptoms and only rarely cause clinical signs evident on physical exam. It is thus important to have a working knowledge of the elements of lipid metabolism in order to ensure proper recognition and management of dyslipoproteinemia.
In the panels that follow, we will discuss how each of these lipoproteins is created and what role it plays. Note that these particle subtypes can be further subdivided. For example, the low-density lipoprotein (LDL) particles can be further subdivided into a range of sizes, from "light, fluffy" LDL particles down to "small, dense" LDL particles, with the smaller particles being more atherogenic (ie, causing atherosclerosis). However, measuring these subfractions of the LDL particles requires sophisticated analytical systems that are generally too expensive and complicated to be used in ordinary medical practice. Therefore, tests that distinguish only the general class of "LDL" particles are considered adequate for the purpose of diagnosis.
In addition, analysis of recent clinical trial data (eg, from the Scandinavian Simvastatin Survival Study, 4S) has shown that assessment of an aggregate of the lipoprotein subfractions other than HDL (ie, very low-density lipoprotein [VLDL] + intermediate-density lipoprotein [IDL] + LDL) is at least as effective, and perhaps more linear, than assessment of LDL alone as a predictor of future CVD events. Thus, in the new US National Cholesterol Education Program (NCEP) guidelines, the "non-HDL" subfraction of cholesterol has become the new target of measurement and treatment. To calculate this parameter, the clinician measures total cholesterol (TC) and then determines the non-HDL level according to the formula:
non-HDL = TC - HDL