Putting HMG CoA Reductase Inhibitors Into Action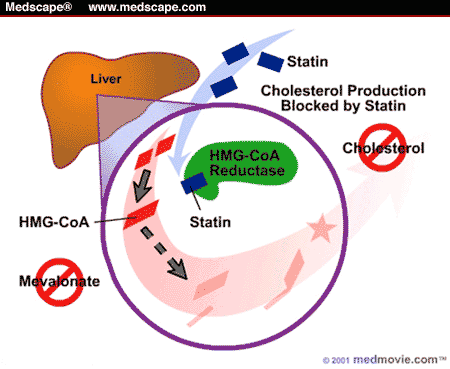 Slide. Putting HMG CoA Reductase Inhibitors Into Action
As discussed above, most of the cholesterol that courses through the circulation does not enter the system directly from dietary sources. Rather, it is synthesized in the smooth endoplasmic reticulum by means of a series of chemical reactions that at one point are catalyzed by HMG CoA reductase.
As we saw in Panel 11, the first way to block cholesterol synthesis is by interrupting the conversion of HMG CoA to mevalonate (so that mevalonate cannot generate cholesterol). In order for HMG CoA to become mevalonate, the reaction must be catalyzed by the enzyme HMG CoA reductase. If this enzyme is blocked, mevalonate cannot be generated and cholesterol cannot be synthesized.
This is the principal mechanism of action of the most popular and most effective of the "cholesterol-blocking" medicines, the HMG CoA reductase inhibitors, which are collectively known as "statins." There is a whole family of statins (see Panel 14) that, because of variations in their molecular structures, produce their therapeutic effects in slightly different ways.
However, there are 3 other ways, besides blocking the HMG CoA reductase enzyme, that cholesterol can be removed from the circulation:
Receptor-mediated endocytosis of LDL, whereby the liver cells, or hepatocytes, attach cholesterol via LDL receptors on their membranes and remove it from circulation;
Selective uptake of free cholesterol from inside the LDL particles; and
Cholesterol efflux from plasma membrane to cholesterol acceptor particles (predominantly HDL)
Logically, if the number of cholesterol receptors in the liver is increased, then the uptake of cholesterol in the liver will be increased. This occurs as part of the body's regulatory mechanisms, because the number of LDL receptors is carefully regulated in response to level of circulating cholesterol. If the liver senses that circulating cholesterol levels are high, it increases the number of LDL receptors on the liver cell surfaces, resulting in enhanced receptor-mediated uptake and catabolism of circulating LDL and its clearance from circulation.
Finally, in addition to induction of the LDL receptors, another control mechanism is to inhibit the synthesis of VLDL (a precursor of LDL, as seen in Panel 2) and apolipoprotein B (a constituent of all non-HDL particles, as seen in Panel 2).